Created: 2014
This archive makes available online more than 11,000 pages of digitized, transcribed, and searchable correspondence between world-renowned architect Erich Mendelsohn and his wife, Luise Mendelsohn, between 1910 and 1953. These materials provide insight into the lives of an artist and couple who experienced a changing international landscape, including their fleeing from the Third Reich in Germany in 1933.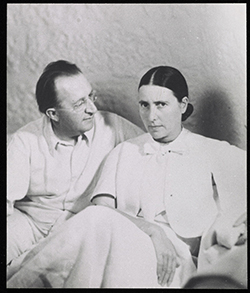 The project is a collaboration between the Getty Research Institute and the Kunstbibliothek—Staatliche Museen zu Berlin, with 1,410 letters from Erich Mendelsohn contributed by the Kunstbibliothek and 1,328 letters from Luise Mendelsohn, part of the Erich and Luise Mendelsohn papers, contributed by the Research Institute.

The website features interactive elements, including highlighted names, places, and artworks that provide a fuller story when clicked. Transcripts accompany zoomable images of the letters, along with editor's notes for added contextualization. Also included are biographies for Erich and Luise, as well as a full project description.
The project received funding by the Alfried Krupp von Bohlen und Halbach Foundation.
Image: Erich and Luise Mendelsohn, ca. 1938. Erich and Luise Mendelsohn Papers. The Getty Research Institute, 880406